Home Yoga Series #2
After teaching a yoga class, one of my students shared that she wanted to start a home yoga practice and asked, "What should I do?" I started to rattle off a bunch of yoga postures to practice. Instead, I told her that the first step was to commit.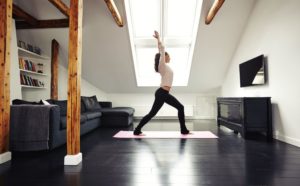 Committing to a home yoga practice sounds easier than it is. You know how it goes. You're excited about it and you even get on your mat one day. You fully intend to practice again, but a week passes and you don't quite get to it. Then another week goes by along with your excitement and commitment to a home practice. Before this happens to you, set yourself up for success and take a moment to get clear about what you want to accomplish with a home yoga practice. How can you hold yourself accountable when you aren't clear about what you're doing and why?
I suggest that you set aside some time to write down your personal goals for your home yoga practice. Studies have found that you're more likely to follow through on your goals if you write them down. Here are three things to consider:
1.Why am I doing this? What is one thing I want to improve at by the end of this first month?
Do you want to relax more? Work on a particular posture? Open your hips? Stretch your back? Get stronger, more flexible…. Knowing this will help determine what you do when you show up on your mat.
2.How many days this week do I plan to practice at home?
Be realistic – better to start with something realistic and achievable. Small wins are better than no wins.
3.How long am I going to practice?
I recommend at least 15 mins but 20-30 is even better if you can swing it.
Writing your goals is step one. Step two is putting it into action. Far too many of us honor commitments we make to others more than the ones we make to ourselves. Honor yourself and show up to your mat!
Stay tuned for more on developing a yoga sequence in my home yoga series!